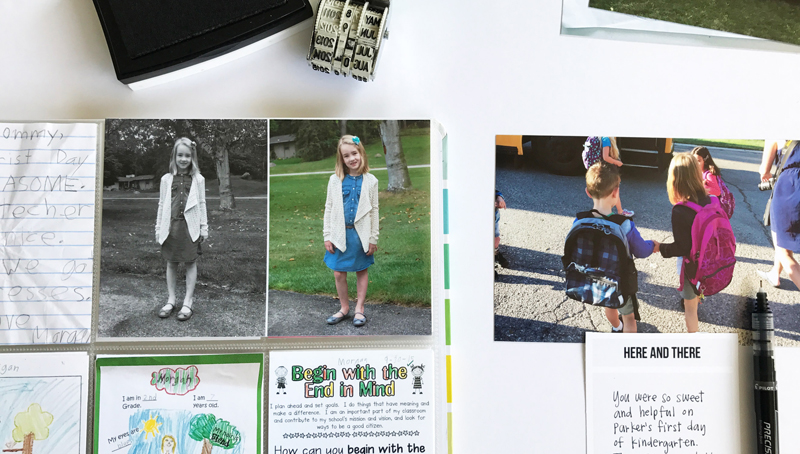 CLASSES TO HELP YOU DOCUMENT YOUR CHILD'S SCHOOL YEARS
DO YOU HAVE A CHILD WHO IS IN SCHOOL?
Then I bet you are no stranger to the amount of stuff they bring home. From art projects and essays, to awards and achievements. And on top of that, you likely have an abundance of photos on your devices from years of after school activities, class parties and field trips. If you have a child that is starting school soon - consider this your warning.
HERE'S WHAT YOU KNOW :
You know you want to get it together and organized.

You know you want to document your child's school years in a simple and sustainable way (because 13+ years of paperwork and photos is no joke).

You want the very best memories from their school years to live in a single home where anyone can pull that album off the shelf and browse through it.

You want it to be easy to update each and every year.
THE PROBLEM IS, YOU ARE BURIED IN PAPERS AND THE PHOTOS ARE ON SEVERAL DEVICES.
YOU ARE OVERWHELMED AND YOU HAVE NO IDEA WHERE TO BEGIN.
Can I tell you this? First, you are so not alone. And second, my very favorite work to share with you are the solutions I've come up with for my own problems! This project happens to combine three things I'm incredibly passionate about - memory-keeping, organizing and goal setting.
When my daughter began preschool in 2012, I was motivated to document all of the things. Every class and holiday party. Every art project. Everything she wrote her little name on. I started strong with a full and impressive album because I wanted to include anything and everything that entered our home in her school album. Well, let me tell you, that didn't last beyond her preschool year. Plus, I flat out don't have the space to store 13 more albums like that - just for her.
Once my son started school a couple years later, I knew I needed a different system if I intended on documenting both of their school careers for over a decade. I thought,
How can I maintain this type of commitment to create a simple but memorable album with a get-it-done attitude?
Shortly after this brainstorming session with myself, I set up two brand-new albums for my son and daughter. Just one album for each of them to contain the best of the best from their school years, from kindergarten through 12th grade.
Once I was in a good flow, I created two courses for you based on that work because I want to help you set up a system that works for you and your child's memories, plus one that gets all of those papers in check!
Since you're still here with me, I'm guessing you are a parent, a guardian, or a loved one that falls into one of these categories :
Your child just started school. They're already bringing home papers and projects and while you know you want to do something with them, you're not sure where to start.

Your child has been in school for years. Whether he or she is in 2nd grade or 12th grade (or beyond!), like it or not, the piles and boxes and files are a part of your everyday life. Figuring out what to do with everything and where to start is beyond overwhelming, so you continue to put it off.

Your child is starting school soon. You've heard other parents chatter about all of the stuff they bring home and you want to get a head start on setting up a system to stay on top of the paperwork, learn how to organize what you decide to keep and create a simple and easy-to-maintain scrapbook to hold all of the good stuff.
WHAT IS THE DIFFERENCE BETWEEN EACH CLASS?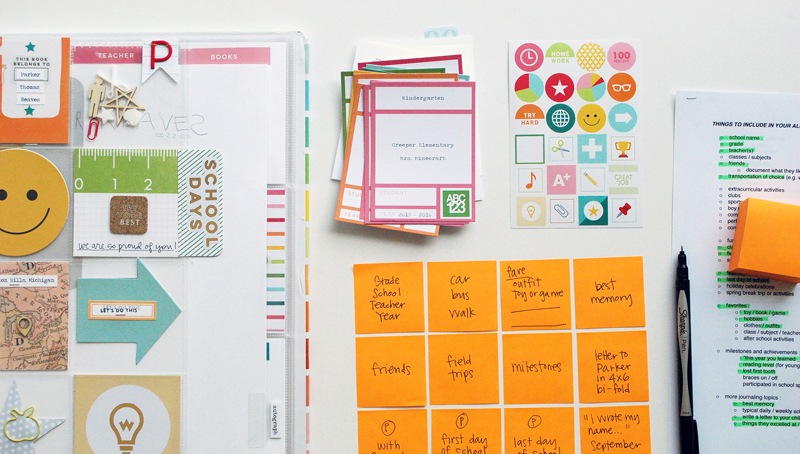 School Days is perfect for parents of little ones who are starting school soon, or just started. You want to create a system NOW to stay ahead of the paper chaos and set up a school album that is easy to add to for years to come.
This class includes :
* 6 lessons
* 2 videos
* 2 printable planning pages
In School Days, you'll learn :
1. How to choose the best format for a school album (like album size and shape) depending on what you want to include each year.
2. How to create a formula for putting the pages together, as well as tips for keeping up with the album in the future.
3. How to assemble and maintain your album for years to come.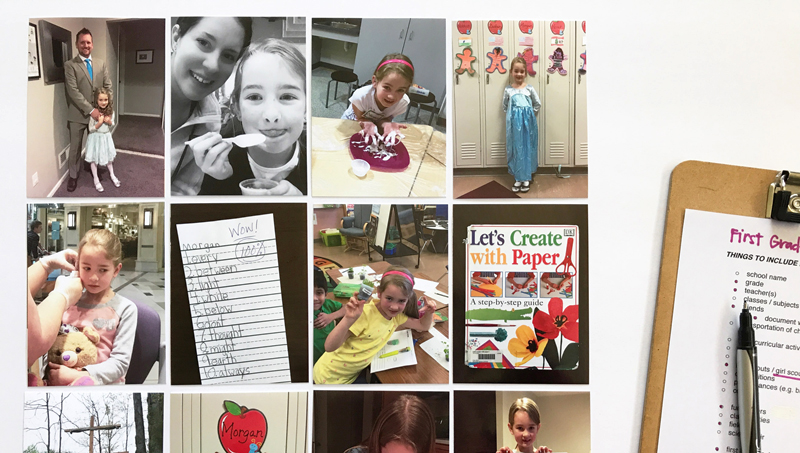 Catching Up with School Days
Catching Up with School Days is perfect for parents of kids who have been in school for at least two years. The papers you've saved alone are daunting, and I'm going to help you get through it, and more!
This class includes :
* 6 lessons
* 7 videos
* 1 printable progress tracker
In Catching Up with School Days, you'll learn :
1. How to collect and consolidate all of your child's artwork and papers.
2. How to choose the best pieces to represent each school year.
3. How to locate, choose, and print photos for your album.
4. How to scale down memorabilia to fit within divided page protectors.
5. How to create a concise but well-rounded album documenting your child's school years.
AND, YOU CAN DO IT YOUR WAY!
Now, you may be thinking, "Woah Nicole, I don't want to get ahead of myself here. Committing to creating a scrapbook for 13 years is crazy. What I really want is to make an album for my son's elementary school years." Or, "I would love to document all of my daughter's highlights, activities and successes during high school."
You can do that!
In both of these classes, I'm simply laying out the framework for you. A way to organize, then pick and choose how you want to set up your child's school albums. Which years you want to document is completely up to you.
Whether your child is 5 or 15, I highly recommend you go through the School Days class first, as I reference it often in the follow-up class, Catching Up with School Days. How you set up the album is a very important part of the process and will save you so much time and effort over the years if you figure out those details first - and how you want to design a system that works for you - before you begin.
But, that doesn't mean you have to shell out more money for two classes!
What's nice about starting a membership at Big Picture Classes is that you'll have unlimited access to both classes, so you can review the lessons and watch the videos as many times as you'd like. You'll also have an opportunity to ask questions within the comments section of each lesson, or you can always ask me a question privately here.
Unlimited access to dozens of classes + workshops for one low monthly payment. Plus, you can cancel your membership, with zero hassles, at any time.
IMAGINE A SYSTEM THAT :
helps you stay on top of all of that incoming paperwork they bring home.

includes the very best work and memories from your child.

gives you a dedicated home to store the important papers you want to keep.

is easy to update each and every year - however many years you choose.
I won't lie - depending on where you are starting from, this project of organizing and setting up a long-term album can be daunting. But I promise you, if you can take the time to following the lessons, step-by-step, and do the work yourself, you will be so happy that you followed through to create a system, and an album, that documents these very special years.
Join me. I can't wait to see what you make.

Love your emphasis on doable and to focus on what realistically I can do! I have 4 children, all grown, and only bits and pieces of albums for them. It will take a while but I plan to start putting these together now!!! Thanks! —scrapperk
Love your organizational tips! The piles are such a challenge! —jenrn
I have been saving artwork and school work since my daughter started pre-school (she started grade five this week). The pile is so daunting and I just kept praying for inspiration to hit. This is the inspiration I needed! The project still feels a little daunting but I am so so happy to finally have a plan. —happycropper
What a wonderful idea - I can see how this will save time - everything all right there when the children advances every year - and I just love the idea of reminder notes. Thank you so much for sharing these ideas. —Tembreull
Absolutely loved this course! Great ideas to get started on an album. —eber1644
I absolutely LOVED this class! I've gone through it a few times since it first came out and I've gotten my plan and supplies together. My Son had his Pre-K graduation yesterday and now I'm ready and super excited to sit down and put together the first year in his book. —khartwell
Thank you for the wonderful class. You shared so many great, quick and manageable ideas. My son is just finishing kindergarten and I started his album early in the year using your class as my guide. My album looks nothing like yours of course, but you gave me the ideas and process to get started on a project that was very intimidating. Thank you again! —jlundsten
Wow! Thank you so much for this class, Nicole! It helped me to put things straight because there are piles and piles of precious stuff here and I didn't know where to start. Thanks again! —geostroski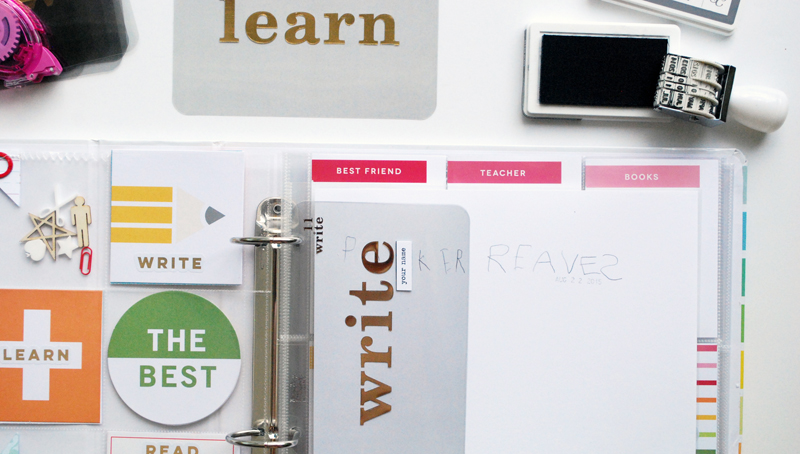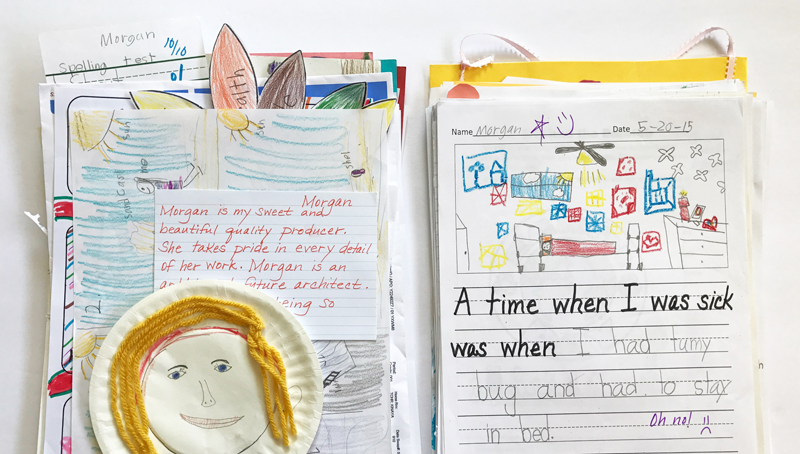 Still have questions? Please don't hesitate to contact me.